Compassion. That is how her mother describes her. Being the youngest of 3 siblings, she grew up around values of kindness, giving back to the world, sprinkled with strong Jewish traditions. It is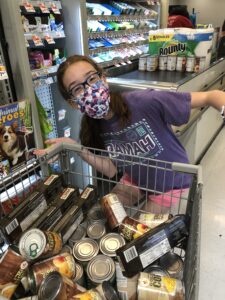 no wonder then that Rena Cheskis chose to do her Bat Mitzvah project supporting the Libby Urie Kosher Food Pantry at JFS.  
Rena grew up wrapped warmly in the Jewish community of Harrisburg. As her mother, Mandy, was/is the Educational Director of Chisuk Emuna, Rena spent every weekend in Shul. She was just 4 when she watched her brother Hallal study for and have his Bar Mitzvah. She is super close to her big sister, 22 months her senior, Devorah. As Devorah studied for her Bat Mitzvah, Rena was eager to start her own. Finally, the day before Devorah's Bat Mitzvah, Rena learned what her Parsha portion would be. Finally! In true Rena fashion, she announced to the guests that they would all be invited to celebrate her own Bat Mitzvah in just 2 years.   
Mandy and Joel Cheskis chose to settle in the heart of Harrisburg's Jewish community. Turns out their neighbor is Barry Stein, the former Executive Director of JFS. The families are close. As Rena began to wonder what her Bat Mitzvah project would be, she immediately thought of JFS and the Kosher food pantry there.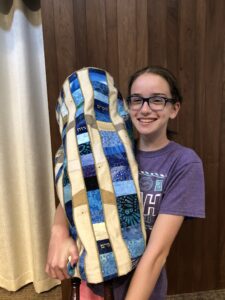 Rena became a Bat Mitzvah on August 21st at Chisuk Emuna Congregation. The family hosted a luncheon after the ceremony. Rena created gift bags as centerpieces to go on all the tables. She shopped at Costco with her very own Bat Mitzvah money and filled the bags with kosher food for JFS' Libby Urie food pantry. Then after the luncheon, Rena delivered the bags to JFS. These actions, both using her own Bat Mitzvah money to donate to the hungry and walking the bags independently to her neighborhood JFS are indicative of the beautiful values Rena embraces.  
Because Rena is Rena, she also has taken on a second Bat Mitzvah project: performing 2 zoom concerts for the Jewish Home to brighten the residents' spirits during Covid. Rena plays the guitar and sings beautifully so this was another natural extension of her gifts and values.  
Rena Cheskis is an authentic free spirit. She embodies compassion: truly caring about others, even during a Pandemic. What a blessing she is in our small Harrisburg Jewish community. Mazel Tov! 
Written by Kim Kupfer with input from Mandy Cheskis.