On behalf of Jewish Family Service of Greater Harrisburg, we extend our heartfelt gratitude to our sponsors, donors, and guests for making Resilience, Survival & Hope: Life Lessons from The Daughter of Auschwitz a tremendous success.
Thank you to Tova Friedman, for sharing your profound experience as a child Holocaust survivor with 280 community members and for inspiring us to educate others about the Holocaust and reminding us that the more we help and heal others, the more we help and heal ourselves.
"You never know what your words will mean to other people. I hope that it will let people think that if we don't stop this hatred of the other, it will lead to where it led me."-Tova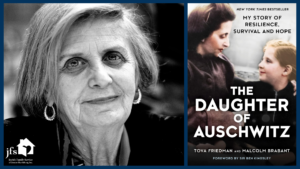 THANK YOU TO OUR AMAZING COMMITTEE!
Dr. Jordan Klein, Chairperson
Dr. Robyn Chotiner
Frank Fleishman
Dr. Rachael Miller
Mary McGrath
Carrie Lepore
Kat Monnier
Kristian Beverly
Jeanette Krebs, Marketing
Sophia Fox, Marketing
To help fund other events like this or to support our community driven mission, it is never too late to support Jewish Family Service of Greater Harrisburg.
Thank You To Our Sponsors!